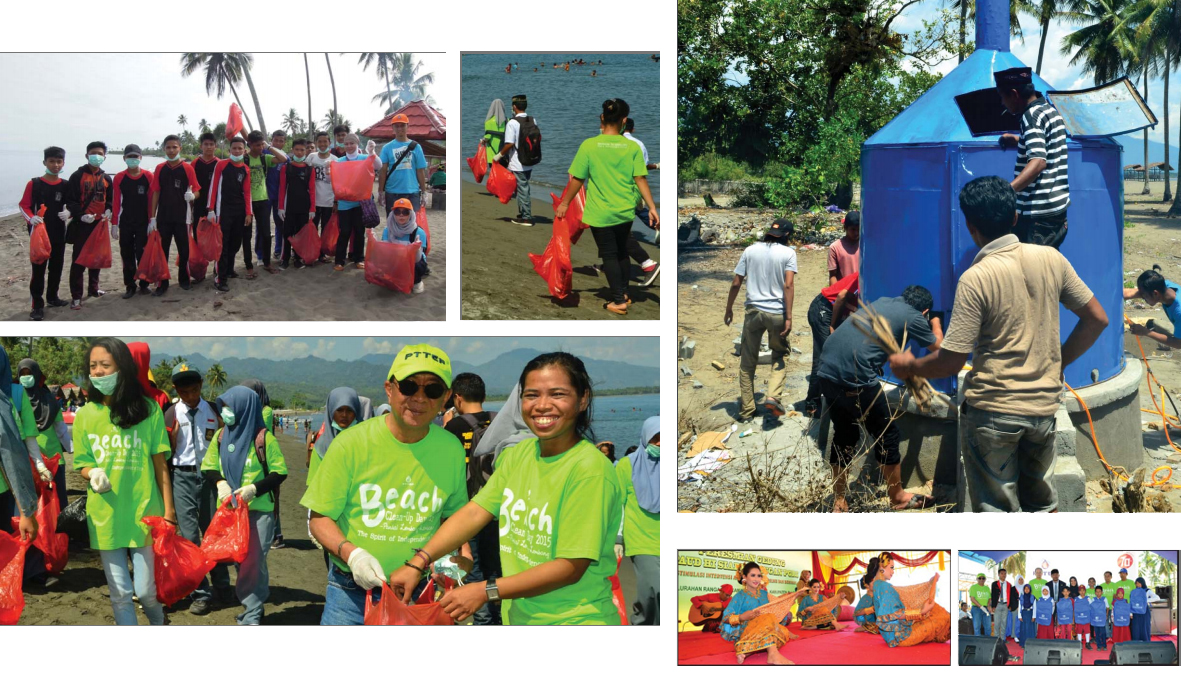 Beach Clean Up Program
As the first private sector to initiate the program, PTTEP aims to encourage the surrounding communities of Lombang-Lombang beach to have a sense of ownership of the beautiful beach and proactive in maintaining a clean environment. This event has been conducted two consecutive years in conjunction with Indonesia's independence day, involving various stakeholders such as local government, local NGO, local community, schools from surrounding area, as well as media.
Our support for the program include campaign regarding 3R (reduce, reuse, recycle), donation of trash bins for shops and restaurant owners, trash bins along the beach for public use, trash carts, as well as sign boards in local language to remind and encourage the visitors not to litter. PTTEP also had the chance to send several employees to Mamuju to participate in this event and became a part of the huge mass of people coming together for the same positive purpose.
Background
Lombang-Lombang, a popular local beach, is located in Sinyonyoi sub district, approximately 30 km from Mamuju city of West Sulawesi. Unfortunately, the locals have not thought about a proper waste management system to keep the beach clean. Therefore, it is inevitable to have the local community's commitment and participation in maintaining the clean environment of the beach.
Based on the concern mentioned above, PTTEP is supporting the local government by establishing a pilot project of 1 (one) incinerator unit, which is a Waste Treatment Process (WTP) that involves the combustion of organic substances as an additional support for local communities surrounding Lombang-Lombang beach.
Partnership with Yayasan Karampuang to ensure the establishment of the unit, the program is supervised by them with responsibility to assist in construction area and program socialization to the locals
Accomplishments
1 (one) unit of well-designed incinerator and supervised by a professional, was completed in August 2015 and preceded by the head of local parliament of West Sulawesi. The occassion was also used to encourage local community to develop a special committee to operate and maintain the incinerator.
Prior to the construction, a series of socialization activities were conducted in two phases where the first phase delivered all information as introduction regarding incinerator as part of waste management system, and second phase was on how to operate and maintain the incinerator.
Way Forward
The program will be replicated to other locations in Indonesia where PTTEP operates, based on the needs of the community.
csr pttep indonesia, kesehatan, klinik kesehatan, csr kesehatan, csr klinik kesehatan, pttep csr kesehatan, pttep klinik kesehatan, beach clean for healthy, kesehatan bersihkan pantai, kebersihan pangkal kesehatan, program kesehatan, kesehatan bersama
Related Content