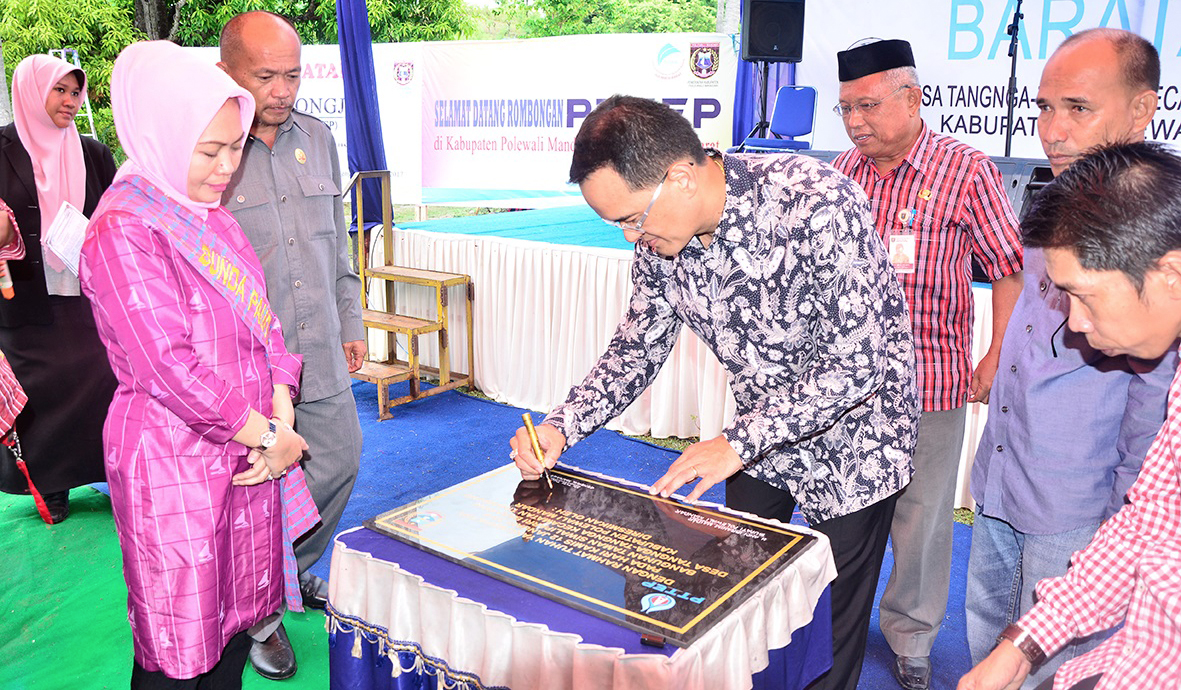 CSR Siola
In Mamuju, West Sulawesi province, awareness of the importance of the development of a child at the age of golden (0-6 years) they climbed to a certain degree that even President of the Republic of Indonesia admit it by giving award of the Millennium Development Goals-MDGs to local government in 2013, over their businesses remarkable which requires every region to establish at least one central SIOLA (Stimulation, Intervention, Optimization of Services for children) who combined stimulation, intervention, and optimization services for children and encourage all families with the kids included in this program. By embracing the concept of integration in accordance with local content, the program provides education, health, and their/protection, and microfinance appropriate for children, all under one roof.
In 2013, are still in the stage of exploration and as the operator that quite new of two blocks KBH on the strait of Makasar, West Sulawesi, PTTEP promised to support the program local SIOLA as part of the initiative csr paud, committed instrumentalities they need and implementing activities worth added as one of an effort to make this program sustainable for years to come.

Program
Central SIOLA intended to ensure that basic needs early childhood filled accordance with the age of and the progress and by creating households strong but tough for children. The program provides services thorough to grow children, and integrating services counseling parents on health, nutrition, child protection and management of household economic. This has been done through the effort to collaborative by local governments West Sulawesi, UNICEF, a local women group, and local LSM.

A concept a whole SIOLA as a model of layanan-satu-atap consisting of 4 (four) element as follows: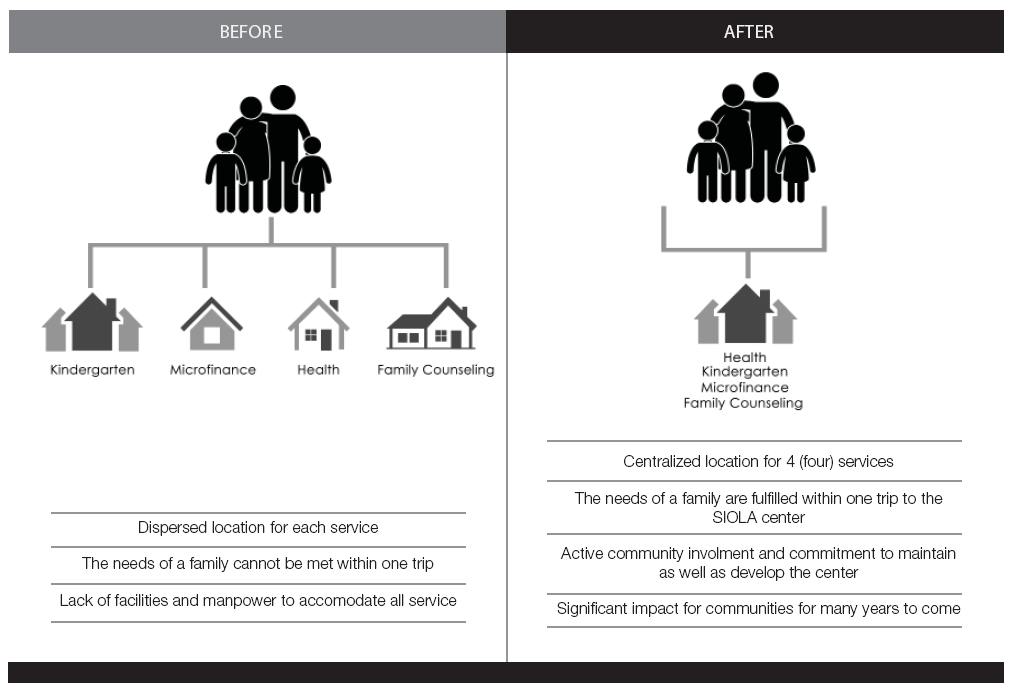 Education: (The Departement of Education)
Designed to stimulate desire learn children melaui play. The government emphasis on included local value and social capital through game, and story. As part of the tools teach them.
Health: (The Department of Health by Pos Kesehatan Terpadunya)
The clinic gave local once a month and serves as an access for the parents to acquire understanding of is true for growth and development, nutrients, and other health issues.
Counseling to Young Family: (National Family Planning Coordination Board)
Give purpose to parents children to be more skilled in the care of, extending knowledge and skill they about parenting, and pour out more attention much to children.
Micro Finance: (Ministry of Micro-finance and Micro-enterprise)
Economic conditions the family can also play an important part in the ability to health needs and education a child. Program siola offer training on financial management and provided support capital for parents.
Contributions
PTTEP support the program SIOLA in various ways, including:
The founding of a new building complete with a means of quality and equipment learning.
Micro financial assistance amounting to Rp10.000.000 for each fund the center as the beginning, and this is part of the initiative company to start running microfinance programs.
Development of capacity in a broad range of topics as one of the initiatives company to make SIOLA sustainable in the long run. Every year, PTTEP formulating and implement of the most effective and relevant based on the monitoring and evaluation, and recommendations of consultants training. Testimony of them are (taken from the final training reports) mentioned that after each session capacity building, SIOLA centers capable of stepped forward and rises in the right direction.
In 2015 ,PTTEP held a workshop 3-days first for committee SIOLA for the purpose of raising and skills knowledge project management they, to run the central SIOLA in a process that managed well.
In 2016 ,PTTEP held a workshop 3-days committee SIOLA, parents, and teachers for the purpose of strengthening synergy between them and manage the quality of central SIOLA in the long term. There are also session about the success story of microfinance down a micro financial institution successful as a guest special .At the end of workshop , the participants sign a decree statement and a association SIOLA centers established with a touchdown long-term promoted programs continuously.
In February 2017 ,PTTEP once again host workshop 4-days especially for teachers SIOLA, as recommendations from the SROI.The purpose of this opportunity was to maintain quality of teaching and peserta-peserta would be coach and share knowledge by teachers SIOLA other.
Roadshow campaign health (a healthy lifestyle, parenting, and nutrients to all central siola in Mamuju, West Sulawesi, as part of PTTEP commitment to support all the services given in central SIOLA.
Meeting and competition SIOLA annual, where all SIOLA central met once a year participating in various competition and also serves as the time to monitor progress and increased the childrens in the confidence, creativity, health, etc.
The Achievements and The Way Forward
Since the involvement of first the company in the 2013, PTTEP now have built 13 central SIOLA and succeeded replication of this three districts of West Sulawesi. Until now, there have been more than 1,200 beneficiaries directly every year and who get basic needs the development of early childhood in terms of education, health, parenting, and microfinance.
Stakeholders such as local government, SKK MIGAS, Police Department, International Organization, Media , and Local LSM actively support PTTEP through various efforts. Companies have receive various an acknowledgment of local government and of its beneficiaries, who cherishes our effort to speed up, replicate, as well as to constant increase this program in order to make it sustainable. In addition, there are several the local community who began unaware of the importance of puts the kids them in the program and some even vigorously offer to gave their land to the government so that they have central the development of the baby an early age.

Impact of the program this had already been assessed use social return on investment (SROI). The return investment social produce values SROI 1.03 satisfactory, from year 2014-2016. Further, value 2.87 is expected to materialize for three years future that suggested that company made a decision that right to support this program. In the end, PTTEP in obtaining a permit absolute to operating in the area, by staying tightly focused to support society development grassroots to the poor and less served in terms of education and the youth.

PTTEP at this point is the first and the only private sector full support this local government initiatives. In the next few years, company will continue to supports the establishment of central SIOLA both new and existing and lead to the sustainability of SIOLA centers in west sulawesi collaborated with related stakeholders as the local government and external stakeholders, and give capacity development relevant to teachers and committee. PTTEP will also considered back progress for possible replication elsewhere in indonesia where company operate.
csr paud, pttep csr paud, paud indonesia, csr siola paud, csr siola paud indonesia, paud csr pttep, pttep peduli paud, pttep indonesia peduli paud, csr paud siola, pttep bersama paud, paud
Related Content