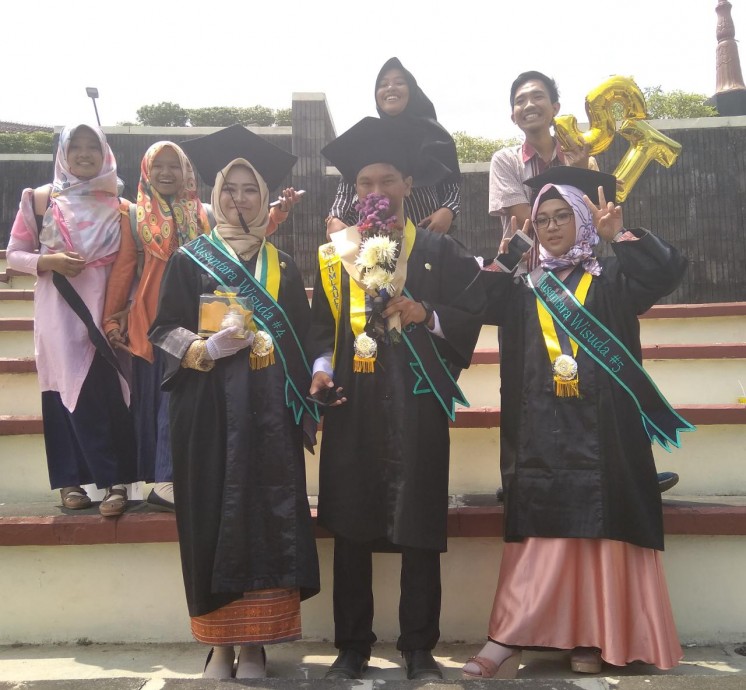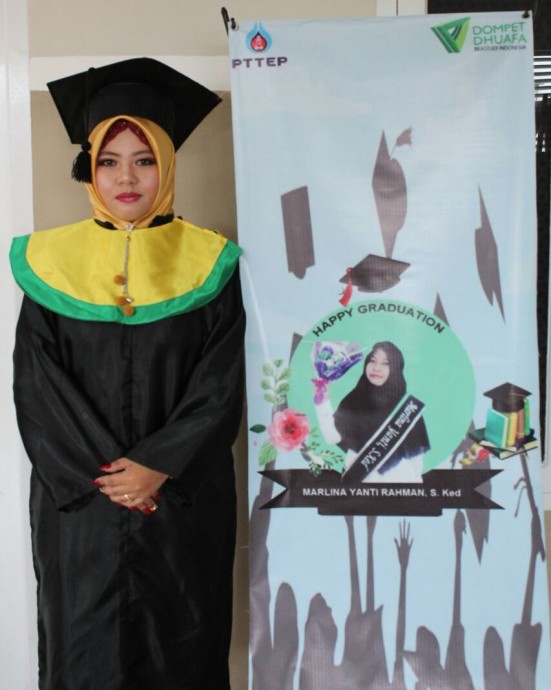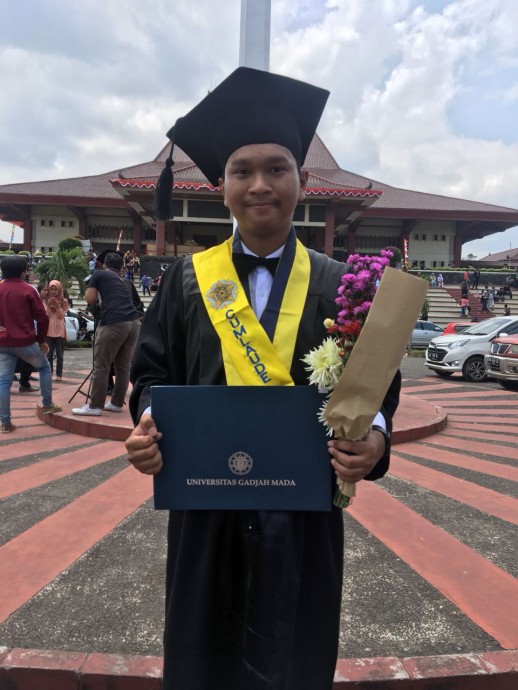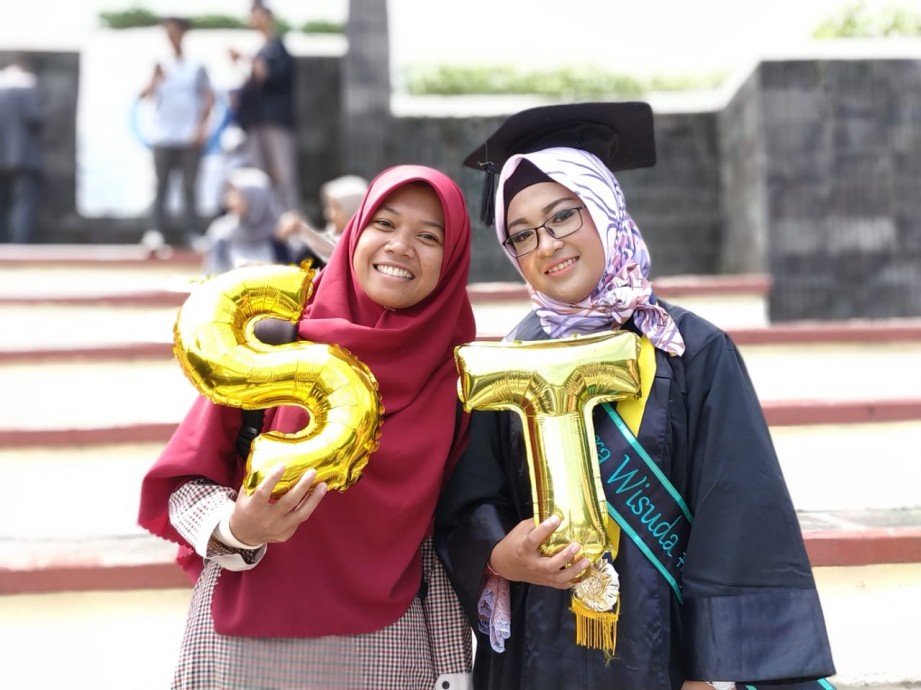 2018 Beastudi Program Graduates
01 Sep 2018
In 2014, PTTEP Indonesia launched a sponsored Project called "PTTEP Beastudi Scholarship Program" (PTTEP CSR), a college Scholarship for underprivileged students with excellent academic records. Partnering with Dompet Dhuafa Foundation (CSR Dompet Dhuafa) as organizer, the program covers 4 Year full scholarship program for university students within 2 batches of recipients (batch 2014, 10 students and batch 2015, 15 students ), spread over at 9 best state universities in Indonesia.
The students were selected from more than 15,000 candidates with strict process of selection :
Input of Beneficiaries consist of Alumni and Non Alumni of Smart Ekselensia
Administrative Selection
Test and Interview
Home Visit
Final Result
On August 2018, PTTEP proudly present the first 3 graduated students form Yogyakarta and Makasar (South Sulawesi), that just finished the program as targeted.
Deny Saputra Yusuf
Deny, he was the first child of two brothers and the son of the man who works as a security guard and a woman who are a housewife as she opened a small shop in front of their house. He was raised and grew up in a modest and warmhearted family. Since in young age, Deny was surrounded by a high competition environment especially at school which it gave a motivation and courage to him to be an outstanding student. Some achievement that Deny achieved were always in the top ten class rankings, he actively participate in scout member, and become a delegates of the Astronomy Olympics to the provincial level.
Deny was an alumnus of SMPN 199 Jakarta and SMAN 12 Jakarta. He grew up to become a strong and active teenager. With his easy-going personality, it is easy to get along with the others and make him easier to adapt to the new environment and people. During his time as a student, Deny was highly active in organizations like the Intra-School Student Organization (OSIS) and the Islamic Spirituality (Rohis).
Right after he entered university, he took the Geodesy Technique in Gadjah Mada University. He declared qualified as one of the scholarship beneficiaries from the Beastudi Etos-PTTEP. This is one privilege chance for Deny to achieve his dream to become useful for the others life who play role in his life. During the university period, he also never lost his achievements as one of them were Deny had published a journal in the International Conference on Science and Technology (ICST) 2018 with the title of the journal the Geospatial Analytics of Pedestrian Safety in Tanah Abang.
Right on the date of 29th of August, 2018 Deny finally finished his bachelor study with GPA scores 3.59 as Cum Laude Honor. Currently, He is working as one of the employees at the peat restoration agency in Jakarta.
Taqiyyah Syarah Pradini
Taqiyyah Syarah Pradini or sometimes called as Syarah, she was a daughter from the father of Mr. Sukino who works as a security guard in Yogya Distribution Center and the mother of Mrs.Diah who once worked as now she quit from her previous job to become a housewife after Syarah was one year old. Currently, her mother becomes a helper of one seller in the canteen of UIN Sunan Gunung Djati, Bandung. Syarah has one younger sister who is five years apart.
Since she was four years old, Syarah grew up in an excellent spiritual environment. At that young age, her parents entered Syarah into the Raudhatul Jannah of Al-Qur'an Learning Places (TPA). Due to their effort as Syarah aged 7 she got third place for participating in a competition of short surah race Quran recitation.
Syarah as a younger was a smart and active kid as she showed it from the accomplishment at kindergarten. She became one of the others five students who were the best graduate at the kindergarten of Pravitasari that she attended. During her study in the SMPN 8 Bandung and SMKN 13 Bandung, she always got the top three class rankings and even several times as Grand Champion at school.
Syarah also passed as a delegate from SMKN 13 Bandung for the Mathematics Olympics Competition as National Level in Bogor Agriculture University (IPB). She became the winner of the Mathematics Olympic Competition in Bandung city. Then she appointed to be a delegate in the Mathematics Olympics Competition in West Java Province level. Even though she did not get any medal, she managed to take the 7th position.
Syarah grew up as an independent, mature teenager, has the nature of responsibility and love for new challenges. During her study period at school, Syarah has thought not to burden her parents that she also aware of her role as the first child in the family and determined to help the family economy situation by working. That was also one of the reasons Syarah chose to continue her education to vocational high school.
Since junior high school until high school, Syarah sold snacks like crispy mushrooms, fried meatball, and surabi. Syarah even became a reseller for the snacks. The earned money used for helping her parent even it was not that much. And Syarah also was able to buy her own necessities. Approaching the announcement of acceptance of State Universities, Syarah used her free time to teaching in Elementary School.
After graduate from the vocational high school, Syarah decided to continue her study into university even at the beginning she was hesitated whether to continue her education or working. At that time Syarah thought the chance for getting better job would be higher for her if she continue her education. At last, she got accepted in the chemical engineering of Gadjah Mada University and also one of the scholarship beneficiaries from the Beastudi Etos-PTTEP.
During the university activities, besides she keeps maintain her academic achievement, she also active student and member in the student organizations, especially those engaged in social affairs. She likes involved in social community activities. This can be seen from several social activities she participated both inside and outside of the university. She even elected as the leader of Despro Beastudi Etos of Yogyakarta. Despro itself is a community empowerment activity that is initiated by the Beastudi Etos scholarship beneficiaries. Syarah also had an active involvement with the Turun Tangan Yogjakarta community. As well several social community activities held by the Beastudi Etos of Yogyakarta in collaboration with Dompet Dhuafa of Yogyakarta.
Right on the date of 29th of August 2018, Syarah graduated as a graduate of the chemical engineering of Gadjah Mada University with GPA scores 3.44. To this day, Syarah is a scholarship beneficiary of the national activist scholarship (Bakti Nusa) which is a leadership scholarship that in undertake the care of Dompet Dhuafa. Beside active participation in social activities and scholarship development, currently, she also becomes a teacher in the Islamic Elementary School.
Syarah was the initiator of social program Omah Santai (Omah Sahabat Nabi dan Tokoh Agama Islam). Omah Santai has a program to coaching the student of Quran learning place in collaboration with the benefit recipients of Bakti Nusa and the local community. She was the initiator and also the one who undertakes in this social community.
Marlina Yanti
Lina was born and grew up in a modest and simple family background. She was the second child of four siblings. She has a father who works as a farmer and a mother who is a housewife. With her family background made Lina motivate herself for her to keep move forward as she believes that life could be in the modest and simplest ways but the thought of the future should not be.
Her determined spirit to make her parent proud of her made Lina always got the first top class ranking from Elementary School until Junior High School. Even in High School, she got the first top ranking for her graduate scores.
In this family background with the modesty simple environment and the enthusiasm passion to keep on achieving made her become a person who is considerate and generous to the surrounding. She becomes a person who can always be relied upon both in the family and in the organization. The attitude of responsibility and never gives up keep continue to grow in hers.
In 2012, Lina finally got accepted into the Hassanudin University Medical Education Department. At the beginning of the semester she got a GPA under 2.00 but with her determination and support from her family, on the 4th of September 2018, Lina successfully completed her medical education with a GPA score 3.05. Currently, Lina is undergoing medical co-assistant activities.
The remaining students from batch 2014 are expected to be graduated within the end of this year. Congratulations to all students.
Other News