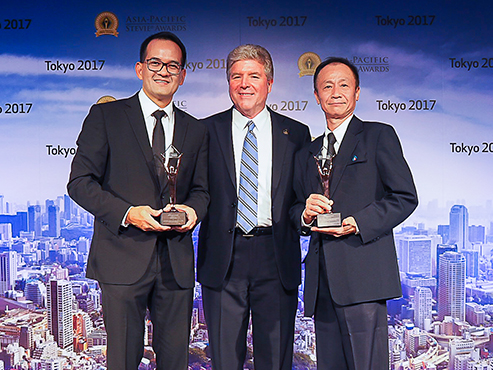 PTTEP's CSR projects in Indonesia and Songkhla honored with Stevie Award
08 Jun 2017
PTT Exploration and Production Public Company Limited (PTTEP) represented by Titi Thongjen, General Manager of PTTEP Malunda Limited, a subsidiary of PTTEP in Indonesia, and Prapon Charusalaipong, Vice President, Petroleum Development Support Base, PTTEP CSR, recently received Bronze Stevie Award in the Innovation in Community Relations category from the Asia-Pacific Stevie Awards Program recognizing its two corporate social responsibility (CSR) projects, namely "SIOLA project" in Indonesia and "Crab Hatchery Learning Center project" in Songkhla. The awards were presented by Michael Gallagher, President of Stevie Award, in Tokyo, Japan.
SIOLA (Stimulation, Intervention, Optimization of Services for Children / PTTEP CSR) is the program that offers play-based education to maximize benefits for early childhood development and healthcare in various locations of West Sulawesi, Indonesia while the Crab Hatchery Learning Center is aimed to increase number of crabs and help local fishermen generate more income.
Photo shows: Mr. Titi (left), Mr. Michael (center) and Mr. Prapon (right)
The information, statements, forecasts and projections contained herein reflect the Company's current views with respect to future events and financial performance. These views are based on assumptions subject to various risks. No assurance is given that these future events will occur, or that the Company's future assumptions are correct. Actual results may differ materially from those projected.
Other News