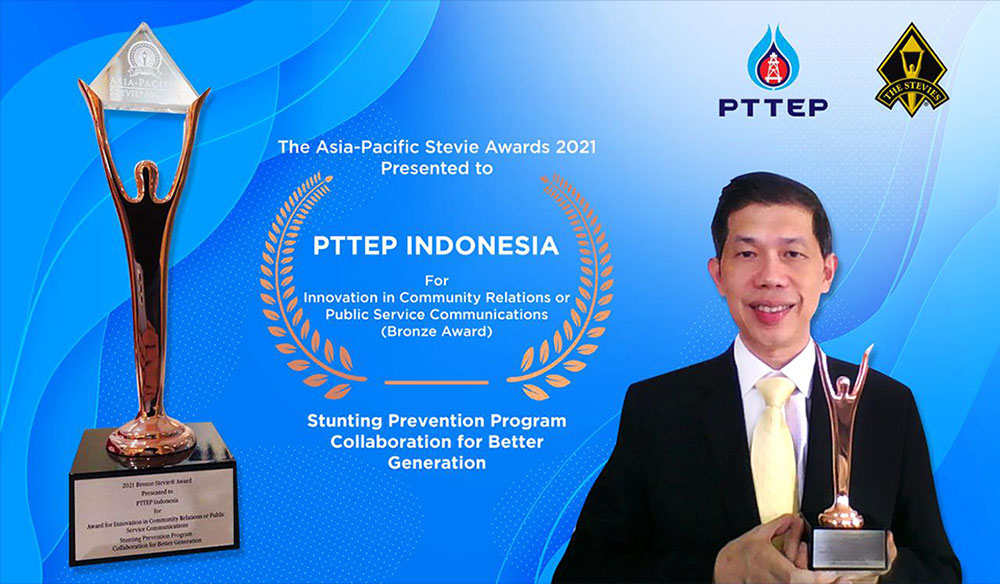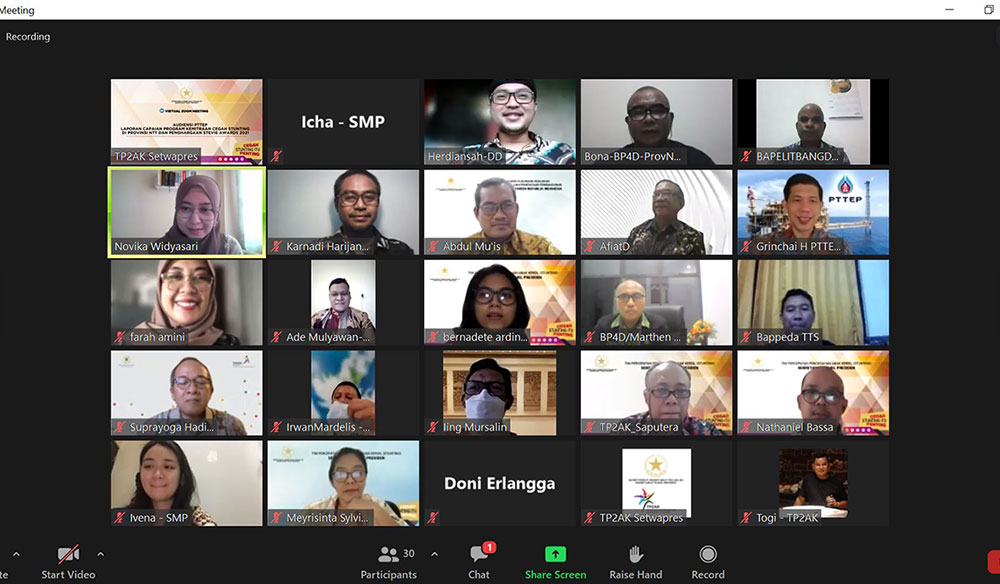 Collaboration with Secretariat of Vice President Stunting Program Wins International Award
02 Aug 2021
Deputy for Human Development Policy Support and Equitable Development of the Secretariat of the Vice President, Dr.Ir.Suprayoga Hadi, M.SP appreciated the Bronze Award in category Innovation in Community Relations or Public Service Communications that was achieved by PTTEP Indonesia. "Congratulations to PTTEP Indonesia for winning the Stevie Award, a global acknowledgment in helping to reduce stunting rate in Indonesia, especially NTT. It is an honor to partner with PTTEP Indonesia," said Suprayoga Hadi, Friday (20/07/2021).
The award from The Asia-Pacific Stevie Awards 2021 for the Stunting Prevention Program for a Better Generation in East Nusa Tenggara (NTT), is a collaboration between PTTEP Indonesia, Dompet Dhuafa, and the National Team for the Acceleration of Poverty Reduction (TP2AK) Secretariat of the Vice President.
Initiated as an effort to support stunting reduction in Indonesia, this program has been implemented since 2020 and carries out intensive intervention activities for pregnant women, breastfeeding mothers, and children 0 – 23 months, children 24 – 59 months, as well as young women of childbearing age. The stunting prevalence rate in Indonesia must continue to decrease in order to reach the target of 14 percent by 2024. Based on the Nutritional Status of Indonesia Toddlers (SSGBI), in 2019 the prevalence of stunting in Indonesia is still 27.67 percent.
The award received from the Stevie Award in the health sector is proof of PTTEP Indonesia's contribution to health programs, especially stunting. Stunting is a common problem that must be solved with strong collaboration to achieve Indonesia Zero Stunting.
"This award from The Asia-Pacific Stevie Awards 2021 proves that the quality of this program meets international standards and hopefully will inspire other private companies," said Grinchai Hattagam, General Manager of PTTEP Indonesia.
The East Nusa Tenggara provincial government also appreciates all partners for their hard work and collaboration to reduce stunting rate in NTT, with the hope that in the future this stunting program can be further supported by sanitation and clean water programs in NTT.
Other News