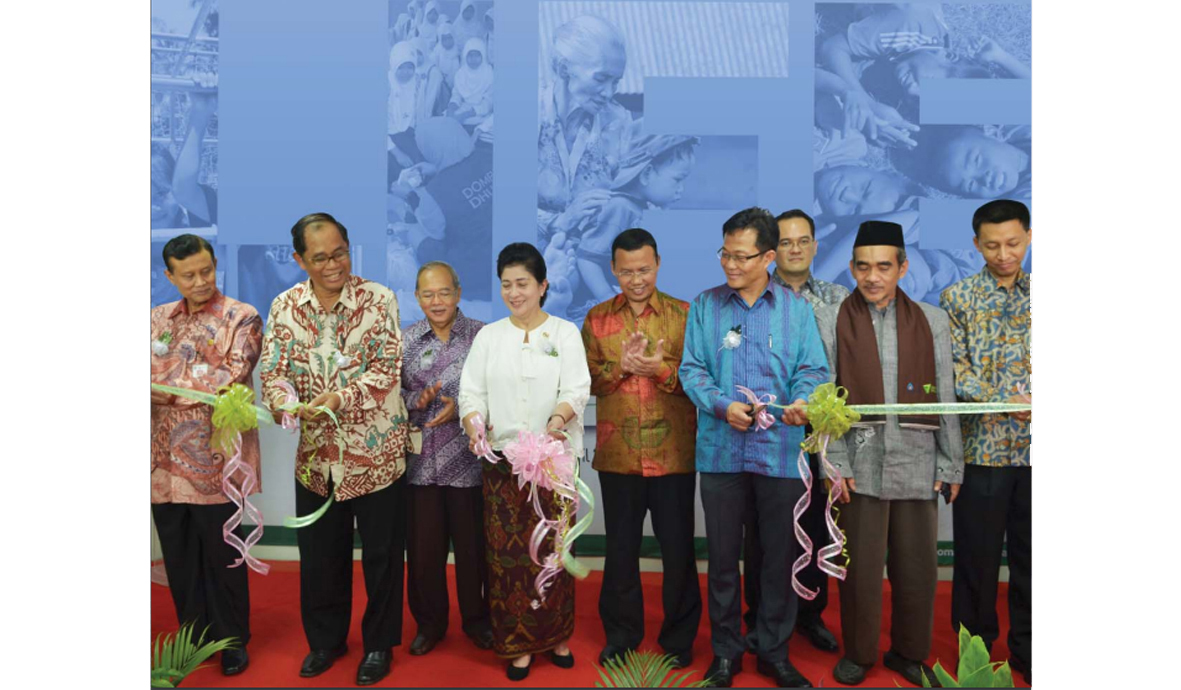 Layanan Kesehatan Cuma-Cuma Gerai Sehat Rorotan (LKC GSR)
Economic constraints limit government's ability to deliver health services. As a result, economically-deprived societies lack awareness of their ilnesses and access for primary health care service. Accessible and affordable health care, is therefore of primary importance for the underprivileged. According to international agenda, highlighted health issues comprise of maternal child health, communicable disease, as well as nutrition. The Free Health Clinic (CSR Klinik Kesehatan) program is intended to signifi cantly contribute to the government of Indonesia's health roadmap in the next 5 (five) years. Establishing this program is PTTEP's goodwill intention to see a sustainable improvement in community's health and well being.
Partnership with NGO Dompet Dhuafa
Dompet Dhuafa (DD) is one of the biggest and trusted non-profi t organizations in Indonesia. Their goal is to enhance social level of the low-lived people by managing ZISWAF (Zakat, Infaq, Shadaqah, Wakaf and other halal and legal funds) from individuals, groups, corporations/organizations. It was established by journalists of Republika Daily Newspaper in 1993, and certifi ed as a national level Amil Zakat Organization in 2001 by Ministry of Religion of Republic Indonesia. Current activities and achievements include: Health care, Education and Social Cause Financing. DD (CSR Dompet Dhuafa) has been serving the underprivileged community and performing an active role in delivering health care since 2001. The primary role of DD (CSR Dompet Dhuafa) is to manage, run, and oversee progress of activities of this health program with an areabased approach at a primary health care service called PTTEP- Layanan Kesehatan Cuma-Cuma Free Health Care Service (PTTEP-LKC / CSR Klinik Kesehatan).
Why Rorotan, North Jakarta?
Cilincing sub district of North Jakarta is known as a slum area with 19 PUSKESMAS (Public Primary Health Care), 9 primary health treatment sub-units, and 6 private clinics. However, these health centers are only able to cover 100,000 people. Based on that fact, the number of health centers in this area is the fewest among other areas in Jakarta and thus, Rorotan Village of Cilincing sub district has been selected as the location for healthcare center.
First, health promotion campaign by providing community-specifi c information on health issues and healthy lifestyle.
Second, curative services through home visits and mobile health services to ensure access and continuous treatment for the elderly and disable patients.
Third, a health baseline study is conducted regularly to ensure that all services are tailored to community's health demand.
Fourth, empowerment by engaging volunteers and PTTEP employees in health service activities. All of our employees have eagerly participated in the mobile health service and will continue to participate in the following years.
csr kesehatan, csr klinik sehat, sehat untuk indonesia, layanan kesehatan, gratis layanan kesehatan, gratis csr klinik kesehatan, kesehatan, klinik indonesia, pttep csr klinik kesehatan, gerai sehat cuma-cuma, layanan csr kesehatan, gerai sehat, gerai kesehatan, pelayanan kesehatan, perawatan kesehatan indonesia, klink perawatan kesehatan, klinik kesehatan gratis, klinik kesehatan cuma-cuma
Related Content